Now those of you who read this astutely might have noticed I'm not Will. That's because he's currently doing some very important stuff that I won't bore you with the details of, so I'm covering news for the next couple of weeks. So what's been happening? Well, let's find out.
After Sony's somewhat lackluster E3 showing, their fortunes haven't improved on the handheld front as the PS Vita continued to be outsold nearly 3:1 by the 3DS worldwide. PS3, however, has fared slightly better, coming second in sales totals and shifting 35,000 more units than Xbox 360. If sales differences continue at the current rate, Sony might slip into second place in console sales for this generation around May next year. Here's a look at global sales so far (courtesy of the good folks at VG Chartz!)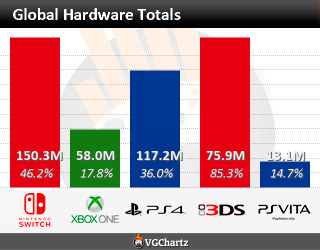 Nintendo's made a few announcements about Wii U that haven't been too well received. For example, the revelation that some MiiVerse messages will take thirty minutes to be moderated and that the launch games will only be 720p. To address those points in turn: the former seems to have been misinterpreted, since it seems they were talking about messages posted on games like the New Super Mario Bros. U map screen to avoid spoilers, rather than limiting messages between users. The point about launch games being 720p – that's unfortunately going to be true of most new hardware before developers get used to it. Fortunately, the games will be running at a lovely 60 frames per second, which is probably a more attractive proposition. To illustrate the point about developers taking time to develop for new hardware, take a look at this trailer for Call of Duty 2 for the Xbox 360 way back in 2005.
Now in some interesting news for Microsoft, a document was leaked a few days ago, purporting to be a leaked tech sheet for the Xbox 720 (codenamed Durango). The 56 page PowerPoint was quickly removed by Microsoft's lawyers, but that might not be an indication that it's real, just that they don't want rumours spreading. Still, it's a very sophisticated forgery to produce 56 pages of fraudulent documents, and a lot of what was included, such as a four player upgraded Kinect codenamed Fortaleza (the capital of a Brazilian province, much as Kinect's codename Natal was) is quite probable. With at least eighteen months until a new Xbox release is likely, the machine's specifications may be entirely different from those on the document, but we'll be eying any announcements closely!
In the software side of things, Suda 51's new game Lollipop Chainsaw has met with a somewhat apathetic response from a lot of publications, receiving an average score of 68/100 from Metacritic. This seems to have been taken as an indication that gamers are growing tired of the increasing number of zombie-themed games, something that might not bode well for upcoming titles like ZombiU and Dead Island 2.
Nintendo have stated that New Super Mario Bros. U is 'what people want' for the new system, which while probably true might not be that adventurous. Still, it's a guaranteed system seller, proven by the skyrocketing DS sales after the first New Super Mario Bros. and the fact that November 2009 was the best month in Wii sales for two years, coinciding with NSMB Wii's release.
Shigeru Miyamoto has stated that he's concerned about the emphasis on games having guns in the modern industry. While he does have a valid point, his concept of launching innocent plant people towards bugs who eat them is hardly pacifist. This comes a couple of weeks after the separate claims by David Cage of Quantic Dream, developers of the upcoming Beyond, and Jenova Chen, founder of indie developer thatgamecompany, that gaming needs to become more mature and expand into other genres that don't necessarily involve violence. As gaming's audience grows more mature, we'll hopefully see a whole range of new types of games in future to really push the limits of the medium.
Thanks for reading the week in gaming!
Robin